"We Ask Everyone" SBIRT Poster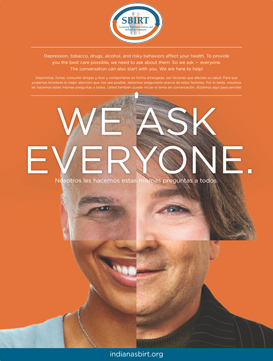 The "We Ask Everyone" poster introduces patients to SBIRT and explains that everyone will be asked questions about their substance use. No one is being singled out. The poster includes a Spanish translation of the SBIRT description. The poster can be used in a large format on waiting room walls and in entryways. It can also be displayed in 8.5x11 frames on exam room walls.
Three version of the poster are available depending on whether you would like to add your organization's logos or website URL to the poster.
1.
Poster with SBIRT logo and link to indianaSBIRT.org
2.
Poster with no logo
3.
Poster with no logo and no link